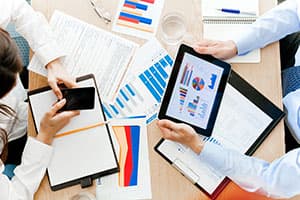 Employee Stock Ownership Plans (ESOPs) are a powerful tool that allows a business owner to sell all or part of his company to employees. Selling company stock to employees can offer unique opportunities for both succession and estate planning, thereby providing the closely held business a vehicle for continued growth and success.
ESOP appraisals are a specialized area of business valuation that requires independence and expertise as they face intense scrutiny from both the IRS and the Department of Labor. Mack Business Appraisals has significant experience in providing initial valuations related to the ESOP purchase as well as annual valuations for ESOP administration. We provide you with a well documented report that clearly communicates the company's value to the employees.
Our ESOP valuation services generally fall into one of two areas: Initial ESOP Transaction Valuation/Consulting Services and Annual Valuation and Advisory Services. A brief summary of each of these two areas is provided below:
Initial ESOP Transaction Valuation/Consulting Services:
Our valuation consulting for an initial ESOP transaction is often a two phased project. In the first phase, we are typically retained by the Company's exploratory ESOP committee during the initial planning stages when the feasibility of the ESOP is still being determined. Our work in this first phase involves performing a valuation analysis to determine a rough range of value for the Company to help assess the feasibility of the ESOP. Our written reporting of the Company's range of value in this first phase is flexible which helps keep fees down during the initial feasibility determination stage. Thus, if after phase one it is determined that the ESOP is not feasible, then our work is typically complete and project fees have been kept to a minimum for our client. However, if it is determined that the ESOP is feasible, then we will proceed with phase two. In the second phase, we increase the scope of our valuation services being provided and prepare a comprehensive valuation report of the equity interest in the Company being sold to the ESOP. This report provides support for the transaction and ensures that no more than "adequate consideration" is being paid by the ESOP for this equity interest. Our valuation report prepared for the transaction is a comprehensive valuation report that is considered an "Appraisal Report" as defined by the Uniform Standards of Professional Appraisal Practice (USPAP).
Annual Valuation and Advisory Services:
We also regularly provide annual valuation services (aka valuation updates) to our clients. These valuation updates can be performed quarterly, semi-annually, or annually, but are most commonly performed annually for our clients. In a valuation update, we determine the fair market value of the equity interest in the Company owned by the ESOP using the same careful attention to detail that we provided in our appraisal for initial ESOP transaction. A comprehensive valuation report is also prepared for each valuation update. The valuation update is utilized by our clients to determine the fair market value of the common stock in the Company owned by the ESOP for regulatory reporting purposes. The fees associated with providing an annual valuation update are generally quite a bit less than the fees paid for our original appraisal of the Company since we can take advantage of efficiencies created from having previously appraised the Company.
"I have retained John several times to provide business valuations for estate and business planning clients. John is knowledgeable and detail-oriented. He keeps me updated throughout the valuation process and always provides a great work product."
"John is a man of honor, respect and integrity. He goes above and beyond for his clients with honesty and accuracy. I look to John with high regards and much respect."
"It is a joy to work with John because he does what he says he will do, communicates status with the client & advisory team, follows up as necessary with additional questions, produces a complete, professional product and delivers on time. He knows his business and, for the icing on the cake, he is a great person!"
"John worked extremely well with a client that needed a business appraisal for estate purposes, but was extremely distraught and as such no so motivated. John, with highest quality, compassion and professionalism got the appraisal done. Thank you again, John!"
"John Mack has done excellent business and estate planning appraisal work for me and my clients. He has a CPA and appraiser background, he stays up with current law in this area to comply with IRS requirements, and understands the issues for advanced estate planning."